Daemen College Academic Festival
A Celebration of Academic Achievement, April 16, 2014.
The Daemen College Academic Festival 2014, our fourteenth year, brings us together on campus to celebrate the academic and creative achievements of Daemen students. The Academic Festival centers on student presentations to the campus and community, providing a showcase for academic achievement and excellence through student and faculty presentations, exhibitions and performances. These presentations may reflect work done in a single discipline or be interdisciplinary in nature, and include posters, papers, panel discussions, exhibits, and videos, artistic, musical or theatrical performances. The Festival Program contains the schedule and the abstracts for all presentations. We are deeply appreciative of the level of student involvement in this Academic Festival 2014.
We are also appreciative of faculty support for this endeavor. Faculty sponsors have worked with students through teaching, research projects, study abroad experiences and encouragement in their proposals. We hope you will experience the exciting and insightful ideas generated through their scholarship.
The members of the planning committee have worked very hard over the past year to make this 2014 Academic Festival a success.
Literary and Legal Scholar Stanley Fish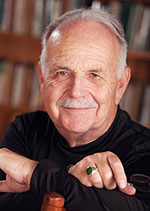 Dr. Stanley Fish is considered one of the leading public intellectuals in the United States and a world-renowned literary theorist and legal scholar.
Currently serving as Floerscheimer Distinguished Professor of Law at Cardozo Law School, Fish is a regular contributor to "The Opinionator" blog for the New York Times. His divisive perspectives on culture, language and the law have captured the attention of a wide range of readers, from scholars to the general public.
Presentations
Warning
: mysql_query() [
function.mysql-query
]: Access denied for user 'apache'@'localhost' (using password: NO) in
/var/apache/htdocs/academics/festival/program2014.php
on line
94
Warning
: mysql_query() [
function.mysql-query
]: A link to the server could not be established in
/var/apache/htdocs/academics/festival/program2014.php
on line
94
Access denied for user 'apache'@'localhost' (using password: NO)